Modelling it on the deep-sea snailfish and inspired by soft-bodied organisms like octopuses and jellyfish, the soft robot reached the bottom of the Mariana Trench and swam freely in the South China Sea at a depth of 3,224 m.
The report says elegant soft robot designs present promising approaches to deep-sea exploration but their performance depends heavily on their soft actuators, including dielectric elastomers (DEs), hydrogels and fluidic devices. The power and control electronics of such robots can require bulky and rigid vessels for protection against extreme pressure, despite their soft actuator and structural flexibility. A pressure-resilient soft robot with no rigid vessel that can swim at extreme ocean depths has yet to be developed.
The self-powered robot they developed eliminates the requirement for any rigid vessel. The robot, which is 22 cm long and 28 cm in wingspan, free-swam by flapping at a speed of 5.19 cm s− in a field test in the South China Sea. It was carried by a deep-sea remotely operated vehicle (ROV) to a depth of 3,224 m and actuated by an onboard a.c. voltage of 8 kV at 1 Hz.
The robot is "soft" because it is made of DE muscles located at the joints between the supporting frame and the flapping fins, a thin silicone flapping fin supported by a stiffer leading edge and an elastic frame and decentralized electronics embedded in its soft body.
Its DE muscles are made of a compliant electrode (carbon grease) sandwiched between two pre-stretched DE membranes. Elastic frames were glued to the pre-stretched DE muscle to provide support and to convert in-plane actuation of the DE membrane into fin flapping motion. The electronics, including a battery, a micro control unit (MCU) and a voltage amplifier, are encapsulated in a polymeric matrix that protects them from the hydrostatic pressure of the sea. Tests were also run in a pressure chamber and deep lake to demonstrate the swimming performance of the soft robot in conditions with lower levels of pressure.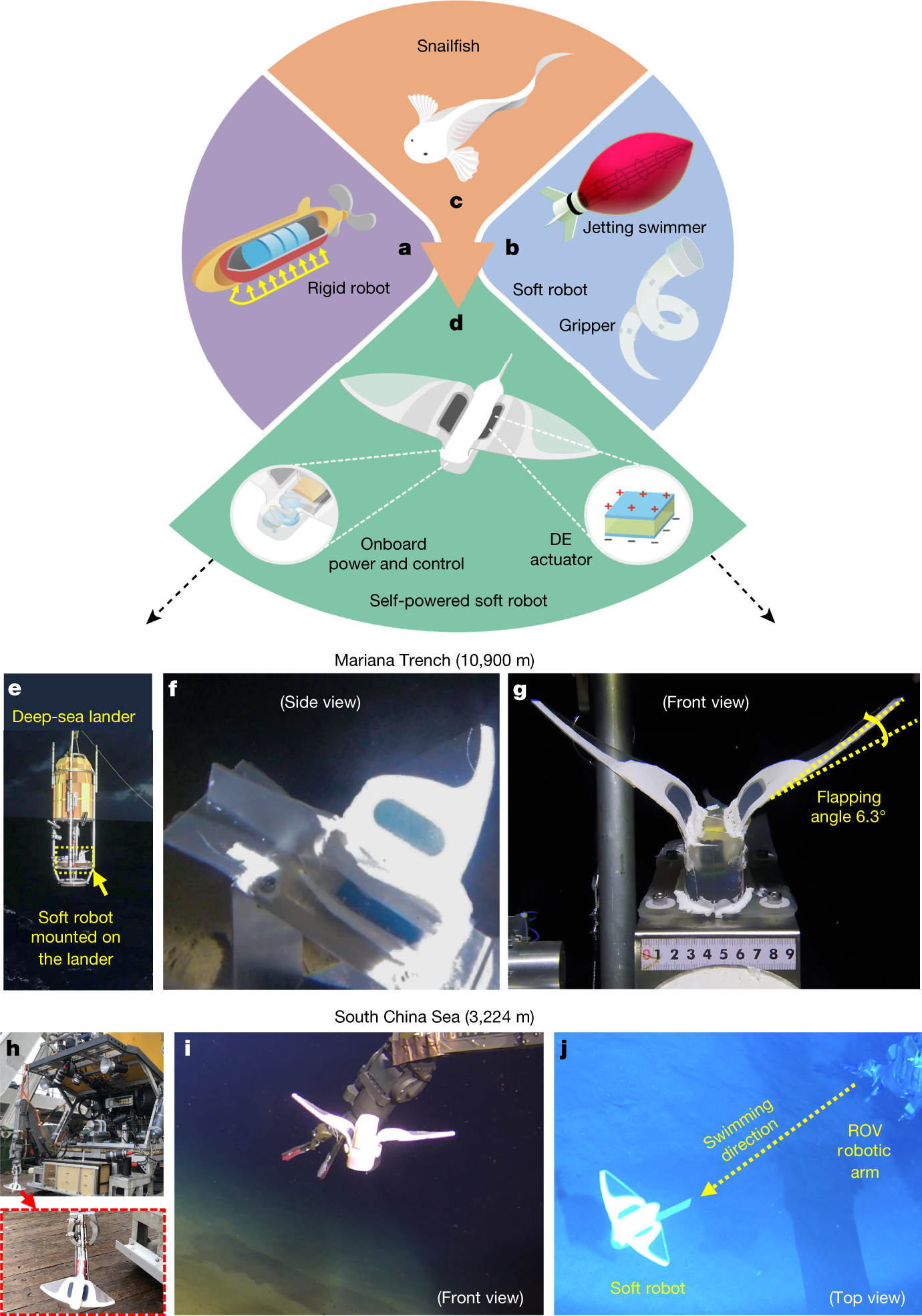 The report concludes that the experiment highlights the potential of designing soft, lightweight devices for use in extreme conditions. They say this is especially apparent when compared to even well-designed rigid robots that offer excellent manoeuvrability and functionality in underwater missions but still require pressure vessels or pressure-compensated systems that are at the risk of structural failure under extreme conditions.
They believe soft devices with sensing, actuating power and control systems can be fully integrated to monitor and regulate complex tasks in mechanically abusive conditions (not only high pressure but also other difficult mechanical conditions such as vibration or impact). And integrating extra function units or rearranging the circuits could yield multiple additional functions, such as sensing and communication in the deep sea.
Their future work will focus on developing new materials and structures to enhance the intelligence, versatility, manoeuvrability and efficiency of soft robots and devices.
You can read the full report on how the soft robot touched the deepest part of the ocean floor here. Stay up to date with the most recent Automation, Machine Vision, and Robotics news on MVPro.